I had mentioned in my
blogging goals
post that I was going to focus on the quality of my posts. One thing for me is that I want to write more actual content, so I'm not going to participate in many link up posts. Not that I did too many before, but the only one I think I will be participating in on a regular basis is
The Boys Behind the Blog
with
Mallory
and
Stephanie
. You know I love talking about my man, so I can't resist this one! It's such a fun link up. So Handsome, take it away!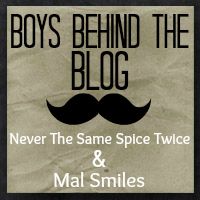 1. If you could live anywhere, where would you live?
Either somewhere where I could snowboard a lot but isn't too cold, or anywhere by a beach!
2. Sand or snow?
He had no clue this was the next question when he answered that first one!
If I had to choose I'd probably say sand. I like dirt bikes.
3. What Winter Olympic sport would you rock at?
Haha probably none. But I'd say snowboarding. The obstacle one.
4. You're cooking a romantic dinner- what is your go-to dish?
I have no idea. Maybe steak and baked potato. Oh! And crab legs.
5. Fill in the blank: This year, I gave (your wife/girlfriend/fiance's name) a ____________________ for Valentine's Day?
We originally filled this out before Valentine's Day but I asked him this one anyway. He just said "nice try!"
He got me lots of candy, homemade brownies, and he wrote in the journal that we pass back and forth! :)