Have I mentioned that I love Bridesmaids? My two best friends and I know literally every single word to that movie. Sometimes I think Kristin Wiig (or at least Annie from the movie) is my soul sister. Here's why:
I'm awkward. That's no secret. When I'm uncomfortable, I make jokes which are usually terrible and awkward and inappropriate. Then I laugh like it was funny even though it wasn't. I trip a lot, too. I run into things all the time. Then I do that awkward thing where I look around and see if anyone noticed, and keep walking.
But sometimes I know people noticed so I do a little dance (if you want to call it that) to say "I'm okay." Do you feel awkward yet? Welcome to my life.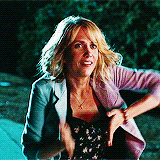 I was never good at talking to guys. I'm happy that Handsome and I reconnected over the phone before we were together in person, because I'm way too awkward to talk to guys in person if I don't know them. Even sometimes with Dj when he compliments me or says something sweet in person I get so flustered and I don't know what to say.


I never have money. I
have a job and I make money from my blog and
designs
, but I always spend it. Whether I spend it on the blog (which is usually where it all goes), or I'm feeding my Starbucks/Chipotle/In-N-Out addiction, I
cannot
save money. I suck at it. Probably because I don't make a lot. But I'm in college, I'm supposed to be broke, right?
I'm a terrible dancer. I don't like to dance and I really can't dance. Unless vodka is telling me I can.
I have no clue what I want to do with my life. I'm getting a degree in psychology with minors in spanish and business, but I don't know what I'm going to do with it. First I wanted to be a psychiatrist, then a neurologist, then a nurse, teacher, and an industrial psychologist. Now I'm thinking about criminal psychology, but I'm sure that'll change in the next week or so. Sometimes it can be really stressful/scary not knowing what you want to do. I know that once I graduate I'll move in with Dj and get my masters degree online, but other than that I have no clue.
Last but not least, I'm bad at making friends. I'm awkward, shy, sarcastic and I'm bad at small talk so I'm not one for making a lot of new friends. I suck
I could literally go on and on. But now I'm going to go watch Bridesmaids because its been way too long since I've seen it and by way too long I mean its been about a month.
Don't forget to check out my new design site,
Sparkle Out Loud