It's time for The Boys Behind the Blog again with Mallory and Stephanie! The best part about this month- I'm actually with handsome when he answers these ones! I could get used to that :)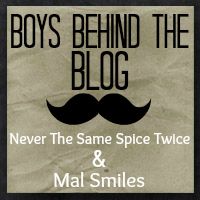 Describe yourself in 5 words. That's a tough one. Let's come back to it.
Obviously we never came back to it..oops!
What is your biggest fear? Spiders. No doubt.... those creepy bastards.
This is not good because that means I have to kill them.
What is your favorite candy? Reeses. I could eat those bad boys all day! Yum.
What was the best Halloween costume you've ever worn? I never dressed up much for Halloween. But I dressed up as the guy from Scream for like 3 years in a row and I thought I was such a badass. I had a little plastic knife and everything!
Whoa that's SO badass..
Who is your favorite football team? New England Patriots! And the ASU Sun Devils of course.
ASU...gross.