I've been waiting for this for so long! Mallory from Mal Smiles and Stephanie from Never The Same Spice Twice created this awesome link up where boyfriends/husbands/fiancés/or any guy friend answer some fun questions so we can get to know the boys behind each other's blogs! I love it, obviously, since he's pretty much the star of my blog anyway!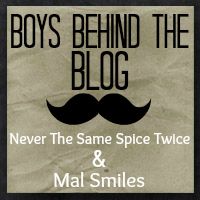 Okay handsome, take it away!
1. If you were an animal, what animal would you be?
A lion! No doubt!
2. What is your favorite meal? My mom makes these amazing chicken enchiladas. I love them!
3. Do you use any forms of Social Media? What is your favorite? The only form of social media I use is Facebook.
[I'm trying to make him get a Twitter!]
4. Beer, wine, liquor, other, or none of the above?
Liquor. But I like Heineken and Corona too.
5. Complete the sentence: "Never have I ever..." Shaved my legs and worn a kilt in Amsterdam!
[What....really babe that's the best you've got?!]